20 Fixes For The "No SIM Card: Emergency Calls Only" Error
Imagine waking up one morning to find a mobile notification that says, "no SIM card inserted" and "Emergency Calls Only." What are you supposed to do? Only being able to make emergency calls on a phone that isn't broken is clearly unacceptable.
Problems like these can originate from the hardware, software, or network—which doesn't narrow things down at all. The good news is, there are solutions for each of these scenarios, although the level of difficulty and expense can vary.
What does "No SIM Card" mean? There could be instances when a mobile phone flashes the notification "No SIM Card". Which means your phone is unable to read the card. (If it doesn't have a SIM inserted)
Why does my phone say "Emergency Calls Only"? There are many reasons why your phone indicates this problem. This article will help you find out the possible causes and the solutions that you can perform to fix them. So how can you solve it?
Ultimately, replacing your SIM card, your phone, or deleting all your Android phone's data do wind up being the go-to option for some. But of course, trying out inexpensive options first is the most practical place to start. So let's do what it takes to revive your SIM, so you can get back to business!
Related:
Fix Sim Card Not Detected error On Android
20 fixes for the "No SIM Card: Emergency Calls Only" error
6 Best SIM Cards for USA When Travelling from Other Countries
"Emergency Calls Only" – Fixing Network Problems
Fix the 'No SIM card: Emergency calls only" problem with these solutions.
1. Restart the Device
Turn your Android phone off, then on. If you just inserted a new SIM, it's normal for mobile phones not to recognize it until there's a reboot. Doing this is probably the easiest way to fix the SIM error: Emergency Calls Only.
---
2. Soft Reset the Device
Unplug the phone from any power source and remove the battery. Wait 30 seconds or more and re-insert the battery.
---
3. Adjust the SIM Card
Try to set-up your SIM card with proper placement in your Android phone. Your SIM card is what connects you to your network, so this is crucial.
However, not all devices offer SIM cards that you can access. If yours does, this can be a fix for the "Emergency Calls Only" problem.
If you drop your Android phone, the SIM can become misaligned, or you might have installed it incorrectly from the start.
Related: Best Apps to Have In Case of an Emergency
---
4. Manually Select the Carrier
Sometimes, settings will change, and this will cause the network to disconnect.
Many manufacturers use the Android operating system, so if these instructions differ from what you see on your user interface, you can also visit the manufacturer's website for help. Start exploring your Android phone's settings.
To search for your network, tap on Wireless and Networks > Mobile Networks > Network Operators. Alternatively, my phone uses Settings > Connections > Mobile Networks, and tap on Network Operators.
---
5. Change Network Mode to GSM Only
If you can make "Emergency Calls Only" on your phone in your current signal, change your network mode. 2G signals aren't fast, but they're reliable. From Settings, go to Mobile Networks > Network Mode and select 2G only or GSM Only.
On other devices, you will need to go to Settings > Data Usage and click on the Menu icon in the upper-right corner. Then select Cellular Networks > Preferred Network Type. Tap on GSM Only.
---
6. Clean and Fix SIM Card
Having an old an dirty SIM card can be the cause of the "Emergency Calls Only" problem. Examine your SIM card. Is it dirty? Are the connectors clean? Perhaps you can easily remove the dirt or debris. Try rubbing the chip with a soft eraser or a dry clean cloth.
---
7. Replace SIM Card
Did you try to cut a regular-sized SIM down to microsize? Is there any other type of damage? You may have to replace your SIM. Sometimes that's what it takes to fix an "Emergency Calls Only" error.
Amazon offers a handy replacement repair kit, which allows you to convert your SIM card sizes without the need to cut your card to fit on the holder.
It comes with handy storage to protect your holders, eject pin, and cards from getting lost.
---
8. Use the Ariza Patch (Requires Root)
If you have a Samsung device and you can only make emergency calls on your phone with a constant loss of network, use the Ariza Patch. The Ariza Patch is a system patch in response to issues with specific Android devices' modems. This patch is known to help older Samsung phones, especially if the problem surfaces after an update.
Sometimes the IMEI number gets changed after the update. For this to work, your Android must be rooted.
Related: Android Root Software with or without Computer
You also need to download Busybox. Ensure that you can download from unknown sources by visiting Settings > Security. Next, download the Ariza Patch file. Open the Ariza app then select the patch option. When your phone finishes, reboot.
---
9. Remove and Re-insert SIM Card
Turn your Android off before installing or removing SIM cards—otherwise, you may harm your device or card. Take care not to scratch or bend the SIM card.
It doesn't hurt to wait a few minutes after the phone is off, and it can be helpful to remove the battery, even if just for good measure.
For some devices, the SIM tray is located directly behind the volume buttons. For other Androids, you can access the SIM by sliding off the back cover and removing the battery.
---
10.Test SIM Card
Try inserting your SIM card on another phone or try another SIM card on yours. Doing this is highly advisable before purchasing another SIM.
If the other device is unable to read your SIM, the problem is likely with the card, not your device.
---
11. Toggle Airplane Mode
Enable, then disable Airplane Mode. Airplane mode disables all broadcasts and cell reception while activated.
Some phones provide easy access through Quick Settings with a double swipe downward from the top of the screen. Another way is to hold down the Power button, or you can go through the Settings option as well.
---
12. Try to Place an Outbound Call
Your phone may snap out if you try to make a phone call even when it's telling you that you can't. If so, you already have your fix for SIM error: Emergency Calls Only.
---
13. Ensure Your Account is in Good Standing
Pay your bills on time. If you prepay, make sure your phone has enough credit. You might want to check with the provider to make sure that your phone wasn't flagged for payment issues, reported as lost, or stolen. And while you are on the phone with the provider, ask if they know why you are experiencing this issue.
Related: Would You Use Google to Get Freedom from Your Wireless Carrier?
---
14. Relocate
Does this happen everywhere? Is it constant or intermittent? Congestion can cause problems with service. Are you next to people with the same provider who have service? Reliability is influenced by how close you are to the towers.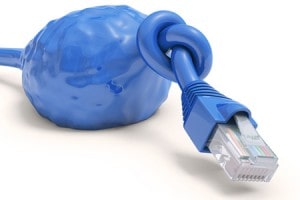 ---
15. Check Overall Mobile Network Status of Provider
Check for service interruptions on your carrier's website. Alternatively, you can go to Downdetector.
It has a real-time overview of outages for different service providers. Weather and natural disasters can also affect service, although not too often.
If your area is experiencing something like a hurricane, you might have to wait it out. Otherwise, there may be a technical issue with service in your area that your provider should hurry to fix.
---
16. Contact Customer Service
Have your phone handy for the call, in case they ask for information like the IMEI number. They may replace your SIM card or possibly even your Android, but it depends on the nature of the problem.
---
17. Disable Fixed Dialing Feature
When the Fixed Dialing Number feature is activated, you can only contact numbers within your list of contacts. To turn it off, go to Phone > Settings > Call > Additional Settings > Fixed Dialing Numbers > Disable FDN.
You have to enter your PIN2 code to proceed. You might also have to reboot your phone if Fixed Dialing options seem to have disappeared from its usual spot on the menu.
---
18. Check For a Damaged Antenna
Cell phones may not have visible antennae anymore, but they are still crucial for signal strength. In addition to checking whether the SIM card has a proper fit, you need to ensure that the back cover has a snug fit on your phone, as this is where you can usually find the antenna.
If that area has some damage due to water, you would likely have to replace or repair it. Disassembling your device to fix the antenna connectors by yourself is not recommended unless you know what you are doing.
---
19. Do a Factory Reset
A factory reset is your last resort because this option will wipe everything back to its factory default settings. A full backup should take place beforehand.
Unless you are having other issues with your phone, you should be able to reset from the General Settings menu. It goes by Backup and Reset.
Must Read:
Android Backup Apps to Save Your Essentials
3 Ways to Recover Deleted Photos from SD Card in 2020
10 Best Free Online Card Games to Play with your Friends
---
20. Consider a Phone Replacement
If your phone has experienced physical or liquid damage, replacing your Android phone may be necessary. If your IMEI displays as UNKNOWN when you dial the code *#06#, then you could have a defective phone that you need to replace.
Try changing the SIM card first, especially if it will work on other devices. Replacing your phone is the last resort to fix SIM error: Emergency Calls Only.
If you get a replacement phone that has the same issue, then the odds are that the problem is not with the device, the network, or the location where you are.
---
Suggested reads:
The 2 Best Android Watches with a Sim Slot
8 simple ways to fix 4G problems on Android phones
10 Best Dual Sim Android Phones
Frequently Asked Questions
Why are you only able to make emergency calls?
Problems like these may originate from the hardware, software, or network. For each origin, there are different solutions that we can do.
Why does my phone say no SIM card?
There are many reasons why your phone indicates that there is no SIM card inserted. This article will help you find out the possible causes and the solutions that you can perform to fix them.
What does no SIM mean?
There could be instances when a mobile phone flashes the notification, No SIM Card. That means that there is no SIM inserted, or your phone is unable to read the card.
What causes sim card issues?
Sim card issues may arise due to poor internet connection.
What does it mean when it says sim card error?

Sim card error means that your sim is either not inserted properly or damaged. In worst cases, it might also be because of your software not being updated.
How do you reset a sim card?

Select the "Settings" icon. Select "Backup & Reset." Select "Factory Data Reset." Select "Reset Phone."
Can you reprogram a SIM card?

You can reprogram a sim card. but first, you will need to program the card with your account information. 
---
Salvage Your SIM
Sometimes, the problem with an Android phone that cannot read a SIM card is because you might have flashed a custom ROM or dropped your phone. Other times, the reason can be because of a hardware malfunction. If you've tried all of our tips above, and "Emergency Calls Only" is still the only thing you see on your device when you make calls – consider having your phone serviced.
I hope that at least one of these tips helped you.
If not, leave a comment below and we'll help you out!